Shopping Cart
Your Cart is Empty
There was an error with PayPal
Click here to try again
Thank you for your business!
You should be receiving an order confirmation from Paypal shortly.
Exit Shopping Cart
Flooring, kichen & bath Remodeling
We are ready and waiting for Spring at Phoenix Professionals!  These past couple of days had temperatures in the 70's which started us thinking about your spring projects that you have been planning all winter.  We have been planning and preparing too!  This Winter we were invited to a Schluter Seminar in South Florida.  We had 2 great days of learning and training to install Schluter's underlayment for Crack Suppression and also their Waterproofing System.  If you have not looked into this for your Spring project, now is the time.  Check out
www.schluter.com
for additional information and then come to us for a "certified installation" of their products.  Happy St. Patty's Day!!!
Professionals agree that larger tiles can enhance smaller spaces. With so many to choose from, it is an "Easy to Maintain" choice for remodelers everywhere.
SIZE  No longer manufactured strictly in 12-inch or smaller squares, floor tiles can be found in squares and rectangles of 12, 16, 18 and 24 inches. With the possible exception of 24-inch tiles, professionals generally agree that large tiles convey a sense of greater space even in small rooms. Less interruption of the flooring surface with grout lines, they suggest, conveys a sense of larger space. Small tiles and increased grout lines can create a floor that looks busy or fussy. To increase the visual expanse of a floor, designers suggest that you use grout the same or nearly the same color as the tile
COLOR  While many designers assert that light colors convey a sense of greater space than dark tiles, the impact of floor color will depend on colors used throughout the room. According to the World Floor Covering Association, the light/large equation is purely mythical. Experiment with colors to see what works best in your decorating scheme. Like an accent wall in a vivid color, a strong contrast in color and tone between the floor and the rest of the room can make space seem constricted or cramped. A possible compromise might be to use very small colored accent tiles at the corner junctions of neutral ones. The larger the tile, the longer the distance the eye travels from one accent to the next.
SHAPE  Mixing square and rectangular tiles in the same color and texture provides subtle visual variety without drastically affecting the sense of space. Constructing a seemingly random pattern of various tile sizes takes some skill but will expand visual space more effectively than creating borders or edgings. You may wish to see professional help in mixing sizes, so that all tiles are of the same thickness or caliber.
ORIENTATION  One of the most effective strategies for using large tiles in small spaces is to lay tile diagonally. A diamond pattern, rather than a checkerboard, prevents the viewer from measuring space in tiles down vs. tiles across. The only limit to diagonal patterns is a room with many alcoves, doorways or other interruptions of wall space. A room with frequently interrupted wall space presents many challenges to laying tile diagonally. It may also impose limitations on using very large tiles. A floor with many partial or cut-down tiles looks constricted rather than spacious.
As we move towards the fall months here in Florida, many are looking to renovate their existing kitchens and bathrooms.  Although, White Kitchens and baths are still popular, I am seeing a little more color emerge here and there.  A client yesterday has asked me to remove her " all white bathroom", and she selected a medium tone gold travertine walls with a dark "wood look" plank tile floor, and her vanity is ebony.  I am excited about this project, finally something bold!  The point is that everyone has their own personal style.  Scan websites or visit showrooms to discover your inspiration for your next project!  Happy Hunting!
     Lately we've found that many of our clients want to give their home a new look but feel that a complete remodel may be out of their budget! Well with Phoenix Professionals we have ways of giving your desired room a make over without breaking your bank!
     People often under estimate the power of a fresh coat of paint! Painting a room will give it a fresh new look! It is important to realize what you are working with in a room, our design professionals are experts in helping you choose the right color for your space! Sometimes a fresh new coat of paint is all you need to bring out your already beautiful kitchen cabinets! 
Check out this before & after:
     In addition, you may be surprise at how far your money will go! For instance a kitchen back splash for a medium size kitchen will cost about $600-$800.00 with a beautiful 4x4 travertine tile, this includes material and labor! So next time you are looking at that new iPad, think about the value you could adding to your home!
Here is a picture of a great example: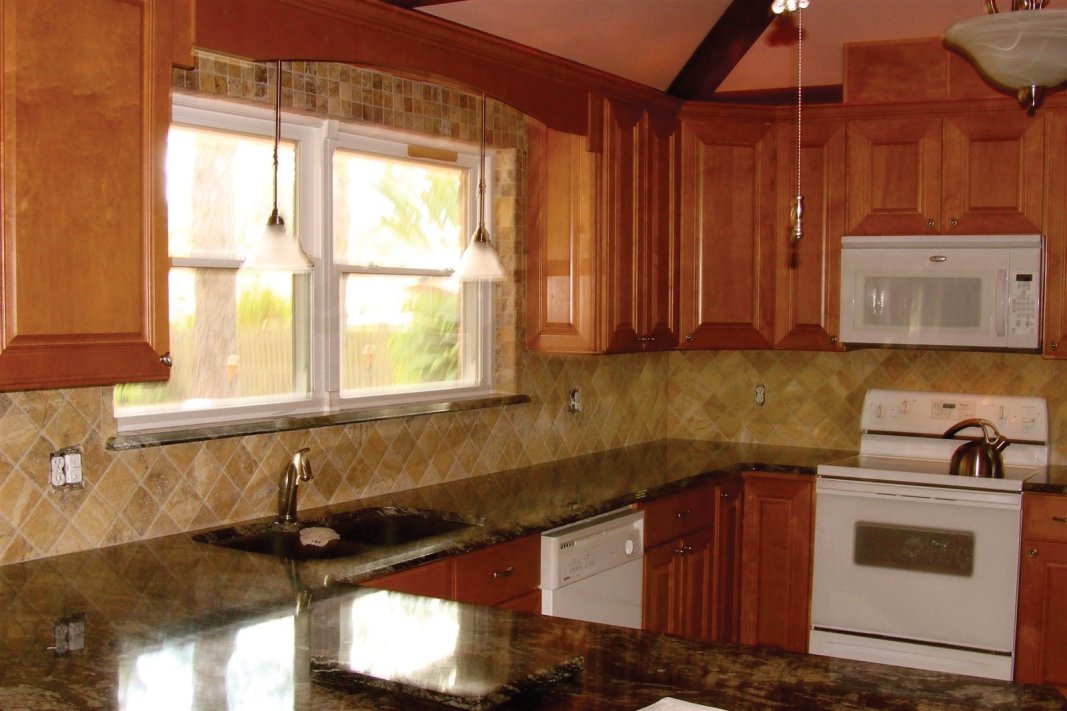 So there you have two simple ways to give your kitchen a new look without spending tons of money! Please feel free to ask us any questions that you may have!
     In addtion
/